2021-2022 Practices
January: 5,6,10,12,13,18,21,24,26,28,31   7-830p
Prince William County Schools- CODE RED= NO PRACTICE
February: TBD
@WOODBRIDGE HS DOOR #3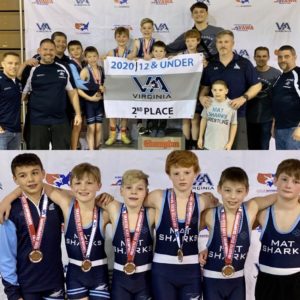 14 Mat Sharks competed at the Virginia State tournament in Richmond on 2/28. We placed 21 out of 236 teams overall and in the 12 U division, with just these 6 wrestlers, we won the STATE RUNNER-UP TITLE out of 55 teams!!  Congratulations!
Congratulations to the following State Placers:
Chris Anderson 3rd
Gunner Colbert 3rd
Cash Colbert 3rd
Nixon Colbert 3rd
Anthony Anderson 4th
Landon McLean 4th
Chris Hamm 5th
Jack Sarchet 6th
And once again, Thank you to all of our amazing coaches for a great season! We appreciate all your time and traveling to be in our wrestlers corners!