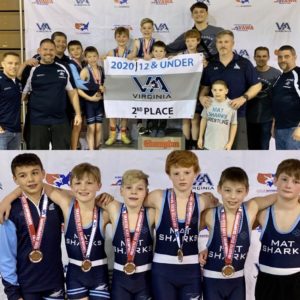 14 Mat Sharks competed at the Virginia State tournament in Richmond on 2/28. We placed 21 out of 236 teams overall and in the 12 U division, with just these 6 wrestlers, we won the STATE RUNNER-UP TITLE out of 55 teams!!  Congratulations!
Congratulations to the following State Placers:
Chris Anderson 3rd
Gunner Colbert 3rd
Cash Colbert 3rd
Nixon Colbert 3rd
Anthony Anderson 4th
Landon McLean 4th
Chris Hamm 5th
Jack Sarchet 6th
And once again, Thank you to all of our amazing coaches for a great season! We appreciate all your time and traveling to be in our wrestlers corners!
TEAM PARTY:
When: Sunday, March 29, 1-3pm
Where: Tonys Pizza 13629 Dumfries Rd, Manassas
703-791-5023   WEBSITE/MENU
YOU MUST RSVP for this event by 3/22
Reply to the TEXT ALERT with # of people OR email MatSharksWrestling@gmail.com
Please have your wrestler be prepared to share their favorite memory at practice, tournament or favorite move they learned this season, to share at the party. 1-2 min max.
BRING YOUR CLEAN SINGLET
PLEASE RETURN YOUR SINGLET AT THE PARTY OR MAIL TO:
12311 Purcell Road, Manassas, VA 20112
Do not drop it off or leave it in the mailbox, MAIL IT.
If you are interested in an off season program, depending on your location, we recommend the following:

SUMMER CAMPS!
We highly recommend finding a camp @ TOP OF THE PODIUM!
An overview and registration is now open CLICK HERE
 Lastly, if you do not already follow our Facebook and Instagram page, please do so. Also, please leave a review for those who may be considering joining our club next year. You will get priority registration as a returning Mat Shark next year but as our numbers grow we may need to do a cut-off. Our board and coaches will be meeting this spring/summer to implement & make changes for the better, so if you have any suggestions, we are all ears!
Enjoy your spring & summer and we hope to see you in the FALL!! 
FEAR THE FIN!